Turn Your Dysfunctional And Ugly Brochure Holders Into Fabulous Eye-Catching Displays!
The sole purpose of a brochure holder is to show off your literature and engage your clients. Unfortunately, the world is littered with ugly, dysfunctional brochure holders. Are you ready for a change? See our four ideas that will make your literature stand out!
Wall Mounted Rod Holders and Rod
Wall Mounted Rod Holders and Rod can hold magazines, newspapers, or brochures. These are perfect for showrooms, customer waiting areas, consultation rooms, and break rooms. The hardware is very simple to install and the length of the rod knows no bounds. Simply screw the rods into each other!
Wall Mounted Rod Holders with Aluminium Ledge
By adding a ledge under the Wall Mounted Rod Holders, you can hold more than a single brochure or magazine. This is perfect for customer takeaways, forms or a busy customer waiting area that sees a lot of traffic. Long Wall Mounted Rod Holders are available for extra depth. Ledges are custom cut to your specific requirements. Contact us for pricing on your specific requirements.
Acrylic and Rod Brochure Holder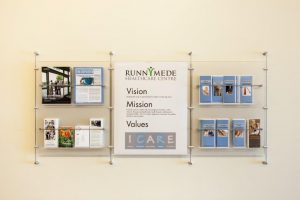 Adding acrylic to the mix takes your brochure holders up a notch. With vinyl on the second surface this adds sophistication and elegance to your walls. Without fixed pockets, this gives you flexibility for holding many different sized brochures. Perfect for hospital corridors, customer waiting areas, and showrooms. These displays are custom to suit your specific wall space and brochure requirements. You can even add graphics with your branding.
Adjustable Brochure Holders
Do you ever get frustrated with the pockets of your brochure holder not being the right size? Need to change your brochure holder set up often? This adjustable brochure holder is for you! Move the Rod Holders along the rod whenever you need to make a change. It's so easy! The Brochure Holder pictured above also features a card holder along the top. Custom built to your specific requirements. Perfect for hospitals, doctor offices, community centres, corporate offices, and showrooms.
Need some help designing your own brochure holder?
Our experts would love to help you with your brochure holder project!
Other great stuff to check out: