The Ultimate Cheat Sheet For Hanging Unframed Artwork That Changes Frequently
Have you ever had the problem of finding a way to hang unframed art? That first piece your child brought home from school; so proud of their accomplishments? The sketch handed down through your family that you can't bear to put away in a dusty closet? Or the painting you bought that needs no frame to display it? We have five ways you can hang those pieces that you just can't find the perfect frame for.
PAPER GRIP
The Paper-grip can be mounted just about anywhere. It allows you to just slide paper of all types and sizes into the rail which will securely hold it. If you need to change the art, simply pull the paper out! This incredible rail will hold all types of paper (laminated too!) and even thin magazines without marking or damaging the paper!
The paper grip is mounted to the wall using the same innovative method that we use on our Clip-rail style picture hanging systems. Simply install the mounting clips and the rail snaps on top. You don't see any fasteners, just a piece of rail and whatever you are displaying. There is a built in notch along the top as well for double the space!
MINI MAGNETS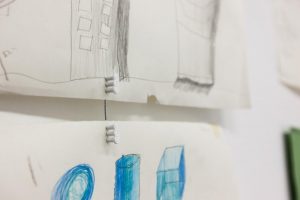 The Mini-Magnets can be used with any picture hanging systems where a steel cable can be used. The three part neodymium magnets hold paper securely and without any surface damage. Perfect for kids drawings and photographs that are constantly changing.
BULLDOG CLAMPS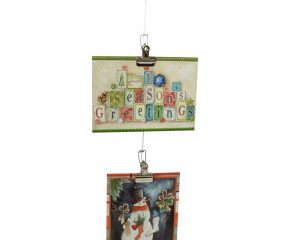 Bulldog Clamps are a perfect solution for hanging greeting cards, unframed photos, children's art work and much more. In the photo above they have been paired with Perlon Cords and SmartSpring Hooks for a quick and adjustable fix! Binder Clips can be used as well in this manner, although not quite as sturdy.
ZIPPER HOOKS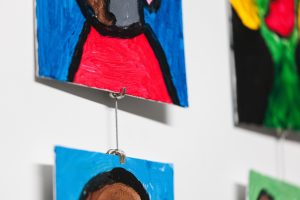 If you have a small piece of artwork with a sturdy backing such as cardboard, Masonite , or thick card stock, using our Zipper Hooks on one of our picture hanging systems is the perfect solution.
The first Zipper Hook should be threaded on the perlon or steel cable upside down and the next should be threaded on right side up. Position the bottom hook where you want your art to sit. Move the top hook into position placing the artwork on the bottom hook. Continue to bring the top hook down until it is snug against the top of the art. For larger pieces consider using four hooks on two cords.
ADHESIVE HANGERS
Our Adhesive Hangers come in a variety of sizes and are perfect for frame-less artwork that is mounted on a sturdy backing. Simply stick the Hanger on your piece, wait for it to cure, and then hang it up! These hangers will hold from 3.5lbs up to 15lbs each!
We have systems that fit every need. Check them out on our website!