Seamless & Simple
The Clip-rail Max picture hanging system is a work of art in itself. The rail features an extra rim along the top which connects seamlessly with the ceiling. This makes the system less visually obtrusive, keeping the attention on what really matters: the artwork.
It is installed the same way as all our other clip-rail style systems, using the same hardware. It even uses the same cords and hooks as the majority of our other systems, making it super easy to install and integrate with existing systems.
This system works best with a perfectly straight ceiling, but we know that not every ceiling is perfectly level and straight. What do you do then? If your ceiling is not perfectly straight, a bit of caulking in the gaps easily fixes this, just make sure it is the same color as the rail or ceiling.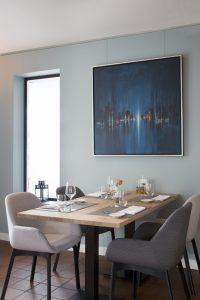 The rail is available in white or silver with a multitude of cord and hook options to customize your space. You can purchase them online, or contact us via phone or email to make this system your own today!