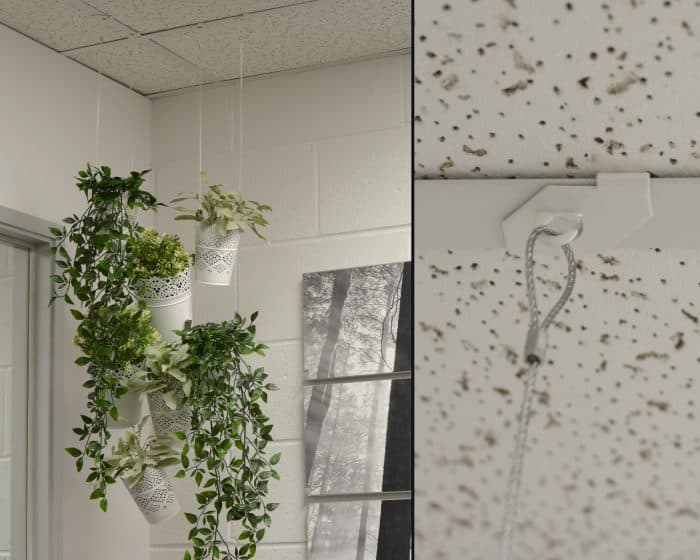 Product Spotlight: The Clever, Yet Simple Way To Hang Objects From Drop-Ceilings
Suspended or drop-ceilings are a common feature in many buildings, both residential and commercial. The intention is usually to hide pipes, wires, ductwork, etc, or even for acoustical purposes. But hanging things from them? That just seems complicated, and perhaps even impossible, but not anymore!
We carry not only one, but two different hooks that clip directly onto the metal grid and are so easy to install, that anyone can do it.
First, we have the HA10200 drop ceiling hook that is the simpler of the two. It is a one-piece hook that clips onto the metal grid. It is a more compact style and also has a smaller hook.
Second, we have the DRPCH drop ceiling hanger. It comes in two pieces that slide in on either side of the metal grid and interlock in the middle. The hook on this one is much larger than the other, and slightly more noticeable.
In their typical application, both hooks are open. However, the drop ceiling hanger has the functionality to become a closed hook. Because it is made up of two separate pieces, a left and a right side, this gives you the ability to mix things up a bit! Typically, a left side and a right side are used together. However, by using two left sides, or two right sides, the hooks on the individual sides are now crossing over each other (DRPCH-C). One thing to keep in mind about having the hook closed is that if you want to unhook the cord, you will have to remove the hook from the t-bar to get the loop out.
The weight rating of the hooks themselves is 5kgs/11lbs; however it is also very important to abide by the weight rating of the actual drop ceiling. This will vary with different ceilings depending on the engineering of them and the manner in which they are secured. The best way to get an accurate rating of this is to contact the manufacturer or installer of the ceiling.
There we are! Easy solutions to hanging plants, signs, artwork, (you name it!) from your ordinary drop ceiling to take your space to the next level. And the best part? The complication of installing a beam above the suspended ceiling or running a wire right up to the real ceiling is eliminated and you don't need any special skills or tools to install these hooks. It is that simple!