J-Rail Max
The J-Rail Max is the heaviest-duty rail in our picture hanging systems line, having a weight capacity of 100 kg/m or 203 lb/3′. Installation is a breeze with this system. The rails come with pre-drilled holes and matching screws which makes it one of our easiest systems to install.
Rods and Hooks
Square (4 x 4) and rectangular (4 x 10) rods are used with the j-rail max to hang artwork. They come in either silver or white like the rails themselves, and in a variety of different lengths. Not only do the rods hold tremendous weights, they also are simpler to use than the flexible cords that are common with many of our other systems. If the rail is high up on the wall, you do not need to get on a ladder to move the rods. You just need to reach the bottom of the rod, and because it is stiff, it can be easily lifted out of the track and replaced wherever you desire. *
*Note: This does not apply if the anti-theft hood is used, which brings us to the next feature:
Anti-Theft Security
This system also has a security application that can be used with the 4 x 4 rods. It works as follows: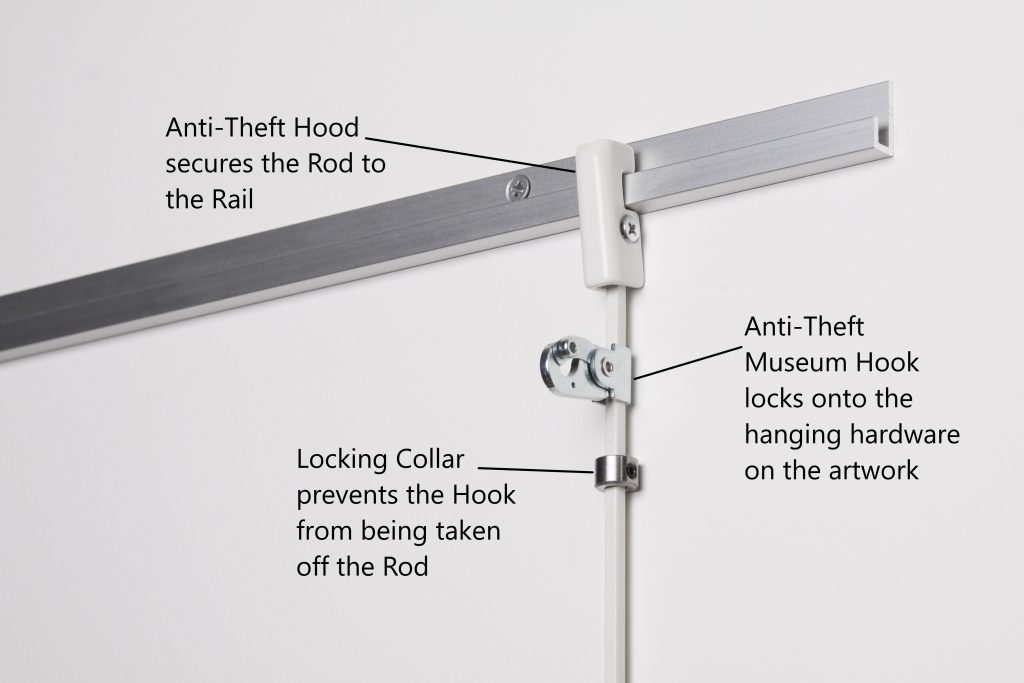 Applications
This system is great for museums and art galleries where artwork is generally larger, heavier and more valuable. Public spaces are also ideal places to install this system as it gives you the flexibility to hang a wide variety of art, while also having the peace-of-mind that the pieces you hang will not be stolen or knocked off the wall by passersby.