Getting Ready For The Back To School Buzz!
The fresh start to a brand new school year is just around the corner, and its not too late to add some pizzazz to your classroom and hallway walls to wow your students as they walk through the doors on their first day back and excite them for the year ahead.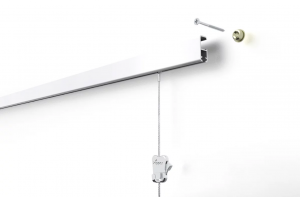 Our Clip-rail Pro picture hanging system is one of the most popular systems for schools and libraries.  It is super easy to install (you can even get us to install it!), and it creates a clean, efficient space for any display without having to patch and bang holes in your wall every time you want to switch things up.
The rails come in either white or silver, but that does not mean that your colour choices end there. Our rails can be painted whatever colour you want. Simply scuff up the surface with some sandpaper, clean it, and paint it!
Once the rail is installed, you now get to choose your cords and hooks. There are so many options and combinations you can use with this system, it may be hard to stick with just one, but that's totally ok! We encourage you to mix things up a bit.
For a quick fix to hang smaller paintings on paper from the grade 2 art class, go for the steel cables or rods with mini-magnets.
For those heavy school mission plaques that  you don't want to get bumped off the wall by passing children, opt for the zipper pro hook. It has an added feature that makes it more difficult to remove the artwork from the hook either accidentally or intentionally.
If you want a less conspicuous look, we also have a clear perlon cord that blends into the wall, making the system as invisible as possible and keeping the focus on the artwork displayed. So many options for one awesome system!
Inspire creativity in students and staff – create a rotating art display showcasing their work. With our systems it is so easy! No tools needed and the wall doesn't have holes that need patching if the display is taken down.
Not sure what will work best for your space? Contact us today and we will be more than happy to help you figure out something awesome for your area!